Our Commitment to the Community
2023
Technician of the Month
– Derek E.
– Charity of Choice: Animal Rescue League of NH
– $250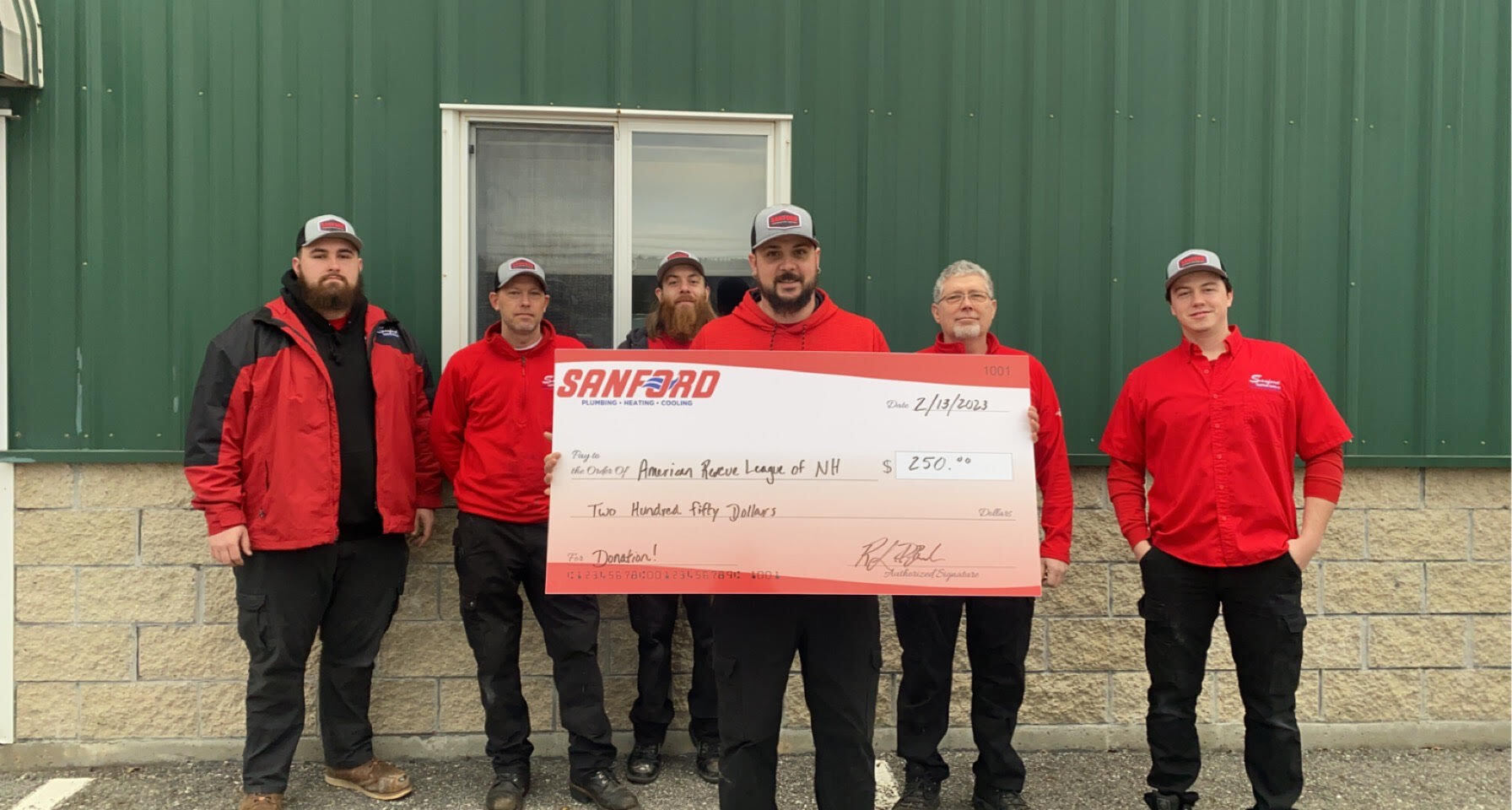 ---
2016
Sanford was honored to meet with the winners of our March charity contest: Animal Rescue Network of New England (ARNNE)!
ARNNE has rescued
thousands
of dogs since its inception in 2001, doing its part to reduce the 8-10 million animals that are euthanized each year simply because there are not enough good homes out there. Its mission is to create a unified network of shelters and rescue organizations throughout New England in order to combat the problem of pet overpopulation. ARNNE provides care and shelter for rescued homeless dogs and places them in loving new homes, while also working to educate the public about pet overpopulation. It's common practice to kill animals in shelters in order to make room for new ones, even though a shelter across town or across state lines might have room for adoptions. Too often, a pet loses an opportunity to find a "forever" home because it sits waiting just a few miles away!
Where do all these lovable pooches come from?
Some come from high kill shelters in southern states where there is a deficiency of spaying and neutering and dogs are allowed to roam free; the result is overcrowded shelters that euthanize dogs. Other times, owners surrender their dogs because they get sick, or can't afford them any longer, or even pass away. This creates a situation in which dogs need good homes, dogs like Ed, who was given up at age 3 because the owner lived in a city and didn't realize he'd get so big. His next owner eventually couldn't take care of him either, due to a change in life situation, so he was rescued by ARNNE at age 11. Or Foxy, who just arrived from Texas at 10 years old, and was lucky enough to get adopted right away. ARNNE dogs range from puppy to senior, so it's likely there's a furry friend out there for just about anyone!
Mary (left), Ed the Dog (left), Dale Sanford (center), Jen (right center), Foxy the Dog (right center), Donna Clark (right)
People like President Donna Clark (founder) keep ARNNE going with volunteers like Mary and Jen. Others help put dogs into foster care so they can await new homes. If you you're looking for that special frenfluffable friend, or just want to donate, then please consider ARNNE. A little goes a long way! ARNNE hosts a Pet Adoption Day about once a month at the First Congregation Church in Pelham, NH from 11 am—2 pm. Shelters from all over New England and beyond unite to interact with the public and show the pets available for adoption, and these animals desperately need your help. Contact ARNNE today, or take a peek at the dogs they currently have for
adoption
.
---
The Robots are Coming! The Robots are Coming!
The robots are coming! The robots are coming … and for Phoenix Robotics, that's great news. Team Phoenix, a group of about 60 students from the Greater Nashua Area, were the winners of Sanford's Community Commitment charity donation in April.
These amazing students compete in a game in which their custom-built robots race to perform tasks faster and more efficiently than their competitors. But they don't just build a robot. That'd be too easy! These students are responsible for marketing, fundraising, and constructing their robot in six weeks or less in order to meet the stringent rules of the F.I.R.S.T. Robotics Competition (FRC), a competition that has been hailed as "the varsity sport for the mind."
What kind of competition is it? Check out this video. You won't believe how cutting-edge it is!
The robots designed for the competition are large and complicated, weighing as much as 120 pounds, and the development project is "as close to real-world engineering that the student can get, including all the constraints of a real-world engineering project," says the Team Phoenix website. Members of Team Phoenix come from home school groups, private schools, and the Academy for Science and Design, and they're dedicated to building robots that compete in these national and international competitions. Take a peek at their robot from the 2015 competition, which had to stack and move a series of 50-pound totes and containers. Phoenix Robotics offers one-of-a-kind job skills and real-world experience to students at a time when society is well on its way into what some have dubbed the Second Machine Age. Robotics "
will have implications stretching across all professions
," and even the definition of "robot" has evolved, as "artificial intelligence applications have pushed the boundary of what a robot is and can do." For instance, Google recently won a
patent
 to start building worker robots with personalities, and that's just the tip of the iceberg. Just like the titans of the industry, the student membership of Phoenix Robotics will continue to compete and innovate, because for them, the robo-future is now.
---
A Hidden Gem: Merrimack PTA Kindergarten and Preschool
Sanford Temperature Control was honored to donate $500 to the Merrimack PTA Kindergarten and Preschool in May!
Director Michelle Desmarais (left), Dale Sanford, Owner of Sanford Temperature Control (right).
This "hidden gem" first opened its doors in 1961, and for the last 55 years has been educating children through a combination of learning through play, expanding social relationships, and learning through teacher and child-directed activities.
In fact, the Merrimack PTA Kindergarten and Preschool offered kindergarten before public kindergarten even existed! Since then, it's been an educational staple in the Reed's Ferry district of Merrimack, and a significant number of children who attend the school are now sent there because their parents attended as children. One of the biggest hurdles the organization faces is the upkeep of its 125-year-old building. It's full of personality, but as many homeowners know, that personality sometimes comes with certain challenges. While the organization keeps its costs under control, they "always have a large list of to-do items," says PTA Director Michelle Desmarais. So it made Sanford feel pretty good about being able to donate to this cause, since the PTA can now offset the cost of replacing the ramp to their school with Sanford's charitable donation.
Anyone who meets Desmarais can tell right away that she's passionate about her job and everything about the school. "I absolutely love being able to help families find a quality early childhood education for their children. We are so passionate in making sure that each child receives the exact care that they need." The organization strives to provide for many more years to come," says Desmarais. Ultimately, the PTA strives to continue to offer "a quality education experience" for another 55 years, and Sanford Temperature Control offers them the best of luck in doing so!
---
Nashua Art Gallery Showcases Local Talent
Laura Barry, Webmaster NAAA; right center. Jackie Barry, Greeley Park Art Show Chair; right)
Edgar Degas once said, "Art is not what you see, but what you make others see."
The
Nashua Area Artists' Association
, a non-profit, all-volunteer educational organization, has been living up to these words by helping local artists and residents experience great art since 1951. The association showcases the work from its 80-100 members at a gallery tucked neatly into street-level suite at 30 Temple Street, Nashua, revealing considerable talent from well-renowned artists recognized both locally and internationally. The sheer volume of inventory and variation of artistic mediums is certainly impressive, which includes oils, pastels, photography, watercolor, and jewelry, just to name a few.
But the Nashua Area Artists' Association isn't only focused on showcasing the work of its members. Open to artists of all levels, it provides valuable services to the community in particular and to the spirit of the arts in general by engaging in community outreach efforts to ensure that art remains an important part of our society and culture. For instance, the association spearheads scholarships for high school students interested in pursuing the arts at the university level. It also helps struggling artists find their artistic groove, whether it's helping with the cost of supplies for artists such as Ron Woods, an armed forces veteran and aspiring photographer, or providing artistic development and mentoring.
The association also spearheads several events throughout the year, and one of the biggest is just around the corner! The
Greeley Park Art Show
, now in its 63
rd
year, gives local artists of
all ages
a chance to showcase their work and compete in local events, such as art shows for adults and youths. The two-day event gives the community a chance to experience many artistic mediums, learn valuable lessons, enjoy positive reinforcement, and be exposed to new techniques and artistic perspectives. The Greeley Park Art Show provides critical support for the association. "The arts don't get funding," says Lauren Boss, President of the Nashua Area Artists' Association. The art show provides much-needed exposure for the cause of advancing the arts in the local community and beyond, and serves as an important buoy for artistic culture in an accelerating world of digital change. The gallery also experiences its own change about every two months. Dutiful staff members rotate the entire inventory, which given the size of the gallery, is an achievement in and of itself. The association ultimately seeks to continue to grow its membership and increase its scholarships. There are currently two scholarships available for high school students going to college to study the arts.
---
Sanford Donates to Only Autism Day School in NH
Since 2000, the number of children with autism in New Hampshire has increased 
more than six fold.
This means that a growing number of children and youth with autism in our local communities need help.
The Birchtree Center
in Newington, NH (winner of Sanford Temperature Control's $500
charity donation
), has grown from a tiny nonprofit school serving just four students with autism to one that serves more than 120 students per year. Supporting 23 public school districts in New Hampshire, Maine, and Massachusetts, The Birchtree Center is unique in that it operates the only special educational day school in New Hampshire that exclusively enrolls students with autism. Jessica Squier, Director of Development & Community Relations, has seen first-hand the difference in students with autism when they get the support they need. "Students learn to communicate, to read, to shop for groceries, and much more. Students with autism need extra support to make this progress, but they're able to do so much!" says Squier.
(The Birchtree Center exists to promote independence, engaging relationships,
and productive lives for children and youth with autism at home, at school,
and in the community. Photo courtesy of The Birchtree Center.)
Members of the center do not refer to their students as autistic, but rather as "
children and youth with autism
." The distinction may seem minor, but Squier says the choice of descriptors is actually very important because "what we call ourselves and how we refer to our children is of primary importance." There's a difference between being
challenged with autism and being defined by autism
, says Squier. The talented and dedicated staff at Birchtree truly go above and beyond to meet the needs of students and families. For instance, their autism experts travel over 25,000 miles per year to help students in their schools and in their homes, while the organization also offers admission-free Autism Workshops and Q&As for parents, educators, and service providers. Most of their 63-member staff are college-educated Clinical Instructors who work one-on-one with students.
(At The Birchtree Center's day school in Newington,
autism experts work one-on-one with students with autism. Photo courtesy of The Birchtree Center.)
The Birchtree center receives tuition and service fees from school districts, agencies, and health insurance providers, but these fees don't cover the full cost of Birchtree's vital, one-on-one services. Donations from individuals, businesses, foundations, and organizations help underwrite the therapeutic equipment, teaching technology, classroom supplies, and expert instruction that are critical to fulfilling students' needs.
(Sanford's $500 donation will help fund educational field trips this fall for
Birchtree's students with autism. Photo courtesy of The Birchtree Center)
Do you know someone challenged by autism? Visit
www.birchtreecenter.org
 for information about upcoming admission-free Autism Workshops and Q&As for parents, educators, and service providers.
---
Sanford Sponsors Milford Pumpkin Festival
Sanford was a proud sponsor of the 27th Annual Milford Pumpkin Festival! Take a look at a few of our pics from this awesome event.
---
The Greatest Charity in Greater Derry?
For the last 28 years,
Community Caregivers of Greater Derry (Loaner's Closet)
has been assisting the frail, elderly, temporarily or permanently disabled, and individuals dealing with chronic illness. The organization consists of two main branches of free public service that provide support and assistance to help people maintain independence in their home environments: a Volunteer Caregiving Program and the Loaner's Closet.
Dale Sanford (left), Julie Levesque (Center), Cindee Tanuma (Right). Sanford Temperature Control was honored to donate $500 to help fund this amazing charitable organization through its Community Commitment.
The Volunteer Caregiving Program supplies visitation, transportation, errands, chores, limited respite care, and referral information to residents in need. Its 100 or so volunteer drivers make the 60-80 drives per week a reality for those in need, providing transportation to medical, dental, and behavioral health appointments. For one-on-one care, the Caregivers can match elderly residents with someone to do just about any of the aforementioned tasks . . .  and then some! The other major branch of the program is the ever-popular Loaner's Closet. Through donations and fundraising, the Caregivers are able to loan out medical equipment and personal items to individuals who may not otherwise be able to afford or acquire them. "Anything from a cane to higher equipment can be found at the Loaner's Closet," says Office Coordinator Julie Levesque.
The best part about the Loaner's Closet may be that
all equipment loans are free of charge!
All the organization asks is that it is returned when it is no longer needed. Local healthcare professionals, occupational and physical therapists, and visiting nurses can also borrow equipment for their clients if residents are unable to visit or contact the Caregivers themselves. All donated items are evaluated, accepted, and cleaned for potential borrowers, who can call the office at 603-432-0877, view their
website
, or visit their location at 1 B Commons Drive #10 Londonderry, NH 03053, if they need assistance. If certain equipment isn't available, then interested borrowers can be put on a waiting list until their items are available.
The Caregivers have developed an impressive 450+ network of volunteers over the years, which are managed by the five upbeat and dedicated individuals who staff the office in. Staff members oversee the client, volunteer, financial, and day-to-day operation of the agency. The organization has been so successful, and local communities so supportive, that they are able to donate their overflow to Haiti, the Dominican Republic, and Zimbabwe a few times a year. "Nothing goes into a landfill," says Levesque. They can even coordinate the donation of items that may be too large for the Loaner's Closet, such as ambulances and hospital beds, to residents or agencies in need. While the Caregivers have no geographic restrictions, most of their services aid residents of Derry, Londonderry, Windham, Sandown, Chester, Hampstead and Danville (at no charge); most of its borrowers come from New Hampshire. The size and scope of the organization means that it's always in the need of more volunteers. Please visit  
https://comcaregivers.org/volunteers/
for current opportunities, or call the office to inquire about how you can help.
---
In the Race Against Extinction, Every Pony Counts
Only 250 breeding Newfoundland Ponies are left on this planet, and 13 of these critically endangered ponies are thriving in Jaffrey, NH because they live under an umbrella of protection. Emily Chetkowski, President of Villi Poni Farm, became a champion for this gentle, loving breed after buying a Newfoundland Pony as a companion for her old half Clydesdale horse. "In a few short months, [my pony's] full-blooded sister came up for sale. Six months after that, their Registered Newfoundland mother came up for sale. Then an injured Newfoundland stallion needed help.  And so it began," says Chetkowski.
Villi Poni Farm was the winner of SANFORD'S COMMUNITY COMMITMENT in November, earning a $500 charity donation!
Left to right: Faith Williams. Kyle Guillemette. George Aho. Dale Sanford, Owner of Sanford Temperature Control (holding check). Applewood Highland Heather (the pony). Emily Chetkowski, President of Villi Poni Farm. Kelly Williams. Kayla McMillean.
Chetkowski quickly fell in love with the breed, and as she learned about how critically endangered Newfoundland Ponies are, she became convinced that they're a breed worth saving. Chetkowski and the volunteers that help run Villi Poni Farm are striving to "cultivate suitable, conservation minded homes for Newfoundland Ponies, and to grow the herd slowly and carefully," says Chetkowski. "This isn't just about numbers of ponies nor how quickly we can increase their numbers. First and foremost is the welfare of each and every pony.  That, in turn, translates to the welfare of the entire breed. Long term, we envision a strong Newfoundland Pony owner/breeder community here in New England." It's a lofty, yet attainable goal, as Villi Poni Farm has already saved about 100 ponies in the last three years by utilizing a network of carefully selected foster farms.
History of the Newfoundland Pony
Historical and social realities have placed an enormous strain on the Newfoundland Pony. The breed's temperament made them ideally suited as workhorses for Newfoundlanders, as these all-purpose ponies displayed stamina, strength, intelligence, courage, obedience, willingness and common sense. They were used for plowing, hauling fishing nets, gathering hay, carrying and hauling wood, and for transportation. Thousands of Newfoundland ponies once roamed Newfoundland, Canada, but in the 1960s, the ponies were displaced by technology. ATVs, tractors, snowmobiles and other mechanical equipment increasingly took over the work these lovable animals performed.
Soon, the ponies came to be viewed as a nuisance, and they were fenced out of peoples' gardens. "Fencing laws were enacted and breeding was discouraged. Many ponies were sold by their owners who thought they were going to new homes, but in fact most were sent to horse slaughter and meat processing plants in Quebec. They were taken off the island by the tractor trailer load," says Chetkowski. Tainted pony meat is often sold to unsuspecting consumers, which continues to strain the breed as well. "No matter how people feel about horse slaughter, pro or con, there is one fact that cannot be disputed.  Horses not raised specifically and carefully for human consumption are not palatable, period," says Chetkowski. "Horses that are raised for meat in Europe are raised under strict regulations.  There are many drugs that they cannot ever have.  One such drug, known in the horse world as Bute, an equivalent to our Ibuprofen, is commonly given to horses.  Bute given even once to an equine, never leaves their body.  When consumed by humans, it causes blood dyscrasia, one of them being Leukemia. Many unsuspecting people eat this essentially poisoned meat, thinking it is safe to eat when it is not. There is no way to know if an equine headed to slaughter has had Bute in its lifetime or not unless that animal was raised specifically for meat where certain drugs are prohibited. It is simply NOT fit for consumption, yet the industry still thrives and turns a blind eye," says Chetkowski. With no conservations mechanisms in place, and a demand for pony meat in existence, the breed never recovered from the government initiative that decimated its population, and remains critically endangered to the present day. Chetkowski says that "initial attempts to save this breed meant breeding as much as possible and selling ponies. There was little follow-up, and basically no teaching on conservation and preservation. Ponies are passed from home to home as children grow out of them.  These ponies become lost and end up in situations like most of our herd did before [Villi Poni Farm was] formed. Many never reproduced. The breed's numbers are not effectively rising because of this."
Conservation
Villi Poni Farm and other conservation breeders strive to replace an animal with one offspring and then add one more to the population, but because of their tragic history, Newfoundland Ponies have very few breeding offspring. Chetkowski is often approached by people seeking to adopt a pet pony, but the mission at Villi Poni Farm is to grow the breed, not sell ponies per se. "Rare breeds aren't nor should they be for everyone," says Chetkowski. "Educating and facilitating breed conservation awareness is a key component to the preservation and restoration of this breed. We never sell ponies and none of our current herd is available for adoption. However, the foals of these ponies will be available for adoption through our one-of-a-kind breeding program."
Chetkowski's program is designed to cultivate conservation knowledge and "safe homes" for the Newfoundland Pony through mentoring. New owners are expected to breed responsibly, and the ponies remain under Villi Poni Farm's umbrella of protection for life. If you are interested in learning more, please visit
www.newfoundlandponies.org
.
---
A Visit to MAYHEM Central
I'll bet you never built a robot quite like Lady Launch-a-Lot when you were a kid!
One of our favorite times of the month is when we get to meet the winners of our Community Commitment, and December's winner was a special treat.
MAYHEM First Robotics Team
(also known as Milford Area Youth Homeschoolers Enriching Minds), a team of local high school students, blew us away with a live demonstration of their robot, the aptly named Lady Launch-a-Lot. Lady's goal? To pick up, aim, and launch balls at targets while competing against another robot and navigating an obstacle course. The students built their robot virtually from scratch in less than six weeks to compete in robotics competitions across the state and even nationwide.
Students must follow strict guidelines and use limited resources to "raise funds, design a team "brand," hone teamwork skills, and build and program industrial-size robots to play a difficult field game against like-minded competitors. It's as close to real-world engineering as a student can get," says the
FIRST Robotics
website. FIRST Robotics competitions have been billed as "the ultimate sport for the mind."
Talk about a challenge!
Per FIRST Robotics rules,
Team MAYHEM
(one of the best acronyms I've come across in a while) had six weeks to build Lady to compete in an competitive season which can last up to an additional six weeks. During the "build" portion of the season, Team MAYHEM met every day except Sunday, displaying an impressive level of dedication and mental ability. Lady can operate under manual control or automatically, and she is equipped with wi-fi technology, but she also boasts a variety of special features, such as:
Image Processing Unit
– This device measures the distance between targets, reading the reflection off of special tape placed on targets and obstacles.
Linear Puncher
– The launching mechanism uses about 100 pounds of force, and is equipped with a special, super strong cord which it uses to launch balls up to 15 feet forward and up to 9 feet up.
Arched Wheels
– Lucy's middle wheels are higher than her front and back wheels, which makes it easier for her to drive over obstacles. Lady weighs up to 150 pounds with batteries, and can reach speeds of up to 10 mph.
Note: Team MAYHEM also used a 3D printer to create low pressure mounts so Lady could stop chewing the teeth off her gears. They built that, too, from a kit.
Watch Team MAYHEM's Lady Launch-a-Lot in action!
Sanford's Community Commitment
donation will surely help fund the creation of an even more impressive robot in 2017. We wish Team MAYHEM the best of luck! We do have one question, however: are any of them looking for a job?
---
2017
Sanford Temperature Control Donates $17,000 to Charity
---
Nashua Charity Offers Hope and Job Placement to the Homeless
Southern New Hampshire Rescue Mission
, winner of Sanford Temperature Control's monthly 
Community Commitment
contest (February 2017), has been offering hope to the homeless, the addicted, and those less fortunate for the last 13 years. The largest single emergency shelter in Nashua serves meals to 40-60 people daily, but its mission goes far beyond providing nutritious food for the needy.
Shawn Terry, Kitchen Assistant (left); Dale Sanford, Owner of Sanford Temperature Control (center); Rick Rutter, Executive Director of Southern New Hampshire Rescue Mission (right).
Southern New Hampshire Rescue Mission was the February winner of Sanford Temperature Control's $500 Community Commitment contest!
The emergency shelter provides up to 21 nights of continuous shelter to those in need, during which visitors can receive basic care management, gain access to community resources, and are encouraged to enter the Transitional Employment Program, or the R12 Christian Discipleship program. The mission provides an invaluable service in the form of professional development, such as resume building, job placement, and access to vital resources such as the internet, as well as providing basic supplies such as clean towels, blankets, pillows, clothes, toiletries and more. The Transitional Employment Program is a robust transitional work program, designed not only to benefit the homeless, but also to aid employed men who find themselves struggling with homelessness, and to prepare them for managing permanent housing. The R12 Christian Discipleship program also seeks to transition the homeless into permanent housing and long-term employment, while also spreading its faith-based message of salvation through a relationship with Christ. Men dedicated to this program commit to one year of helping the mission, serving the community, and studying biblical teachings. In exchange, they are housed in the Disciple Room, a large room with bunkbeds, amenities, and workstations at which they can prepare themselves to move back into society.
Southern New Hampshire Rescue Mission
spreads its faith-based message of salvation through biblical teachings, providing critical emotional and spiritual support to the needy. Pastor Montel Wilder of the Grace Baptist Church in Pepperell, MA, who runs the bible study programs within the mission, says, "I consider myself honored to be able to come here and minister."
The mission has helped people like Shawn Terry, Kitchen Assistant of Southern New Hampshire Rescue Mission, who also has a full-time job, overcome his personal challenges to get off the streets and succeed. "The mission saved my life," says Terry. "It offers a stable place, accountability, and we're open all day, every day. We offer the compassion that enables people to heal." It's impossible not to get a positive vibe from staff members like Terry; it's a vibe driven by a genuine passion for helping those in need. "I was placed here to minister to the homeless," says Rick Rutter, Executive Director of Southern New Hampshire Rescue Mission for the last 4 years. "We comfort others with the comfort we've received from God. We offer hope." Unlike a traditional soup kitchen, visitors are held accountable for their actions if they seek to secure the long-term support of the mission. The mission is a "dry shelter," meaning drugs and alcohol are forbidden; everyone is given a breathalyzer test every morning, and must pass it in order to remain within the mission. Currently, the mission can only support men, but Rutter and his dedicated team hope to expand their services to aid women as well. "Sixty percent of the calls we get are for women, but we can't help them yet," says Rutter. He explains that many women are coming out of hardship or abusive situations and can't, or don't want to be, housed with men. Rutter and his staff are seeking ways to expand their services to include these women. Southern New Hampshire Rescue Mission is funded entirely by individual, church, business and foundation contributions and grants; it receives no federal, state, or county money. As a result, the mission is actively seeking individuals/groups to host food drives, sock drives, or underwear drives. "These are things which help to provide for the men who stay with us overnight, and help keep our overhead down," says Rutter. More information can be found at: 
https://www.hope4nashua.org/
. The mission is also actively seeking volunteers and monetary donations. Your support helps fund things such as breakfast every morning, lunch on Monday, and Wednesday to Friday, and dinner on Saturday and Sunday. Tuesday afternoons are reserved for their Gift Center, a weekly event from 1 pm – 4 pm in which staff distribute items such as food and clothing to the needy, to help them get what they need to get back into the workforce, or just to make ends meet. Please consider supporting this wonderful charity today! For more information, visit: 
http://nashuarescuemission.org
.
---
Sanford is a "PAL" to Nashua Kids' Charity
Nashua Police Athletic League
, affectionately known as PAL among local residents, has been helping kids stay off the streets and offering them a better future by bringing out their own innate abilities since 1989. "We're here to help break the cycle of crime," says Shaun Nelson, Executive Director of Nashua Police Athletic League since 2007. "About twenty-six percent of the crime that happens in Nashua takes place within a mile of here," he says of the charity's location at 52 Ash Street.
Students, faculty, and members of Nashua PAL, winner of Sanford Temperature Control's $500 Community Commitment. Dale Sanford, owner of Sanford Temperature Control (center right, white shirt).
In order to combat some of the harsher realities of life for poor and disenfranchised kids, the charity provides an oasis of positivity where they can learn, grow, and learn to embrace a strong mental attitude that will help them conquer their challenges in life. PAL also provides academic, athletic, and emotional mentorship that helps them meet specific goals and needs. They learn self-empowerment through PAL's programs. Staff members and volunteers lead by example, encouraging kids to pursue positive values and activities, such as community support through service projects, like the creation of a Community Garden along the nearby Nashua Rail Trail. The kids also get the support and develop the confidence they need to pursue good grades, and learn to help those in need, including other kids. The bonds these kids form with others and their community are invaluable in creating pathways through which they can better themselves, and ultimately overcome whatever life throws at them.
Nashua PAL serves about 2,500 kids citywide, with 400-500 enrolled in programs at their main building at 52 Ash Street. About 60-75 kids come to this facility every day, making it a critical resource for the city of Nashua. Some kids come every day, some come a few times a week, and others come for specific programs, depending on their situations. The first hour after school is always dedicated to completing homework or reading, but after that, kids can enjoy all that the charity has to offer. In exchange for contributing to their community or themselves, kids are granted a free membership to the considerable facilities at Nashua PAL. Outdoors, there is a basketball court, skateboard park, and the Nashua Rail Trail is just a stone's throw away. Indoors, PAL offers a homework room, media room, library and reading room, computer and internet access, dance classes, crafts, a game room, and a boxing and exercise facility. In fact, their boxing facility is a USA Boxing Certified gym, and the sheer volume of trophies on the wall is an indication of all the hard work the kids, staff members, and volunteers have put into PAL—it's a sign of a deep affection for their community.
USA Boxing Certified Gym
Various articles and accolades.
Trophy wall of PAL competitors.
Game Room.
Perhaps most importantly, PAL teaches accountability, confidence, and self-respect. There is always a "PAL of the Month," an award for a "stand-out" child, which might include someone who has turned it around and is now getting good grades, engaging in community service, or has excelled in one PAL's athletic programs. They can earn recognition for their efforts, as well as small rewards, like gift certificates to local restaurants like ice cream hotspot, Hayward's Ice Cream, or Burger King. Kids can also earn field trips. PAL is partnered with the Nashua Police Department, which assigns a police officer to further the community policing model of getting to know local kids and families in an effort to engage with the community.
---
Milford Community Athletic Association Hits Home Run
Since 1957,
Milford Community Athletic Association (MCAA)
has been fostering a sense of community, teaching the values of good sportsmanship, and getting local kids out for some good old-fashioned fun through its baseball, softball, soccer, and basketball programs. Serving Wilton, Milford, Mont Vernon, Mason, and Lyndeborough, MCAA has succeeded in getting kids moving, teaching them teamwork, and fostering a competitive spirit.
The organization serves over 500 kids in its soccer program alone, while baseball comprises over 180 . . . and that's not counting basketball and softball! There are multiple age-based divisions within each sport as well, which means there are a heck of a lot of moving parts within MCAA that require the attention of a legion of volunteers to do everything from staffing concessions stands, to coaching and refereeing, to lawn maintenance on the playing fields. Soccer requires up to 50 volunteers, while 25 are required for MCAA's Baseball program. Despite this hurdle, the organization has sustained itself for 60 years through a strong spirit of local volunteerism. It's a stunning lesson of a community teaching it youths by example. "It's all for the kids," said Rob Howard, President of Baseball for MCAA.
Rob Howard, President of MCAA Baseball (Upper Right), and players of MCAA Baseball.
When asked about the challenges the organization faces, and how Sanford Temperature Control's $500
Community Commitment
donation will help the organization, Howard said: "Sponsorship and fundraising is a huge component for us. It's how we keep registration costs down to keep our programs affordable." The organization is also currently seeking volunteers. "Volunteers are critical to our success," said Jen Larco, Fundraising & Volunteer Coordinator.  "Visibility is also important to make families aware of our programs, and to have as many participants as possible." Without the strong spirit of volunteerism from the communities it supports, MCAA would not be the robust (and fun) program that it is today. We wish them another 60 years of success! To learn more about MCAA, or to help the organization, please visit
MCAA's website
.
---
Spartans March to Victory in Sanford's Community Commitment Contest
Spartans Drum & Bugle Corp
began marching to the beat right here in Milford in 1955, and over the decades has continued to offer a one-of-a-kind musical experience to youths in the southern New Hampshire area, teaching the values of music, performance art, and community. "It's a fantastic experience. It's like marching band times one thousand," said seventeen-year-old Dallas Quinlan, a baritone horn player in the Spartans organization, and a local of the Nashua area.
Dallas Quinlan, Spartans Baritone Horn Player (left); Dale Sanford, Owner of Sanford Temperature Control (center); Paul Laflamme, Leader of Spartans Drum & Bugle Corp (right)
The Spartans are a summertime corps for youths aged 14-21, who spend their summers traveling all over the country performing at concerts and parades, and competing in competitions against other corps. To call the Spartans just a band would be a disservice to all their hard work and dedication. Over 100 Spartans perform fully choreographed and highly complex music and dance routines, moving synchronously throughout their performance, complete with a color guard. Like Cirque Du Soleil or other popular acts, the Spartans develop original performances every year to dazzle their audiences; 80% of the 2017's show, called Connected, consists of original music. "Every movement in the show explores some aspect of human connectivity, like the connections people make through social media," said Quinlan.
Watch their amazing performance from last year here!
The Spartans have been known to rehearse for as many as fourteen hours in a single day leading up to a performance so that they get it perfect. It's a dedication that has earned them the honor of performing in several inaugural parades, such as those for Carter, Reagan, George W. Bush, and George H.W. Bush, and one of the top color guards in the country, which has won a national championship five of the last eight years.
Dallas Quinlan, Displaying various awards.
The Spartans truly live a tour lifestyle for the two months they're on the road every summer. They sleep on cots and air mattresses in schools and gymnasiums, and rehearse in soccer fields and parking lots. They're supported by four buses and two tractor trailer trucks, one of which boasts a full kitchen. "Everything we need for the summer is on the busses or in the trucks," said Paul LaFlamme, leader of Spartans Drum & Bugle Corp since 2009. It's a grueling commitment, but the Spartans are united by their passion for music and performing, and often find the rigorous schedule highly rewarding. "As hard as it is, without a doubt it's the most worthwhile thing I've ever done," said Quinlan. When you're rehearsing 14 hours a day in the heat, you develop really strong bonds with other people." They are bonds that run deeper than their tour and performances, as they seek to embody their motto:
Respect. Responsibility. Commitment.
"We try to uphold these tenets in everything we do," said Quinlan. "Respect: we never swear while in uniform. For responsibility, we try to always support friends and family and the community. The commitment is in time and money, not to mention whatever else we might be doing with our summer." Paul LaFlamme has lead the Spartans out of the Boys & Girls Club of Nashua since 2009. Laflamme joined in 1986 and aged out in 1994, but his history with the Spartans goes much farther back; LaFlamme's grandfather was the founder of the Spartans! "I've been around it my whole life. My first memories are of being strapped in a bus and traveling around with the band," said LaFlamme. The Spartans are able to continue dazzling crowds because of the many volunteers who support them, and because of generous donations from local communities and businesses. The organization is supported almost entirely by volunteers, fundraisers, performance fees, and tuition. Please check out the Spartans today at:
https://spartansdbc.org/
!
---
Sanford Donates $500 to Local Students Group
We the People represent the future of our nation. The winner of Sanford Temperature Control's $500 Community Commitment for June was a group of 15 students at Milford High School who participated in an AP-level class that focuses on government and politics.
David Alcox, Teacher at Milford High School, left; Andre Aresenault, Student of We the People, left middle; George Hoyt, Former Student of We the People, right middle; Dale Sanford, Owner of Sanford Temperature Control, right
We the People promotes civic competence and responsibility, while illustrating the fundamental principles of American democracy. It is a national organization within the
Center for Civic Education
that delivers an "innovative course of instruction on the history and principles of the United States constitutional democratic republic. The program enjoys active support from state bar associations and foundations, and other educational, professional, business, and community organizations across the nation." Students in this class master a printed text, read materials such as the Federalist Papers and the Anti Federalists Papers, as well as many contemporary books by authors such as Akhil Amar and Laurence Tribe. Other interactive content explores the history and principles of constitutional democracy through critical-thinking and cooperative-learning exercises. The goal is for students to prepare themselves for competitions at the local and state level, while learning civic responsibility. "The competitions are like congressional hearings where students testify, create a prepared statement, and have a free question period," said George Hoyt, a former student of We the People, current Board Member of the Milford School District Budget Committee, as well as Board Member of the Town of Milford Recycling Committee. Milford's own branch of We the People has won 15 of 19 state championships! See these brilliant young minds in action here: Given his civic involvement, Hoyt is a prime example of how his experiences with We the People have helped shape him into a community-minded citizen. "A lot of kids have gotten involved in politics in some way after going through the program," said David Alcox, teacher of We the People at Milford High School. "It helps them learn to be better citizens, to get out and vote, and get involved. Many kids go on to all different types of jobs, but this is civic knowledge they can take with them." Since 1998, over 500 students have participated in Milford's branch of We the People. "Students are motivated by community involvement" said Hoyt. "They are the leaders of tomorrow." We here at Sanford Temperature Control, Inc. couldn't agree more, and we're proud to support this wonderful initiative.
---
An Inconceivable Team Wins Sanford's Community Commitment
Monadnock 4-H Robotics Team Inconceivable
(#1729), a F.I.R.S.T Robotics team operating out of Boynton Middle School in New Ipswich, were the winners of Sanford Temperature Control's Community Commitment contest in July, 2017. Sanford Temperature Control's $500 donation will help fund the building of a robot like Fezzik, last year's machine that took Team Inconceivable to the World Championship of
F.I.R.S.T. Robotics
, a competition that has been hailed as "the varsity sport for the mind." These amazing students compete in a game in which their custom-built robots race to perform tasks faster and more efficiently than their competitors. But they don't just build a robot. That'd be too easy! These students are responsible for marketing, fundraising, and constructing their robot in six weeks or less in order to meet the stringent rules of the F.I.R.S.T. Robotics Competition (FRC). Team Inconceivable's robot Fezzik boasts a variety of impressive abilities, such as a special drive train and the ability to climb a rope up to five feet high. These abilities helped Fezzik navigate the inconceivably difficult field of last year's competition. Robots had to protect their castle, move into enemy territory, and shoot balls into hoops set at eight feet and two feet high in order to points. The field sported obstacles, a portcullis, and a drawbridge, among other challenges.
SEE FEZZIK IN ACTION! LIVE DEMONSTRATION!
The game is played based on a series of randomized alliances, with three robots on either team. Teams cans be allied in one match and opponents in another, therefore, it's a pretty common sight to see one team helping another if something goes wrong with a robot prior to a match. So, while the robotics competitions are highly competitive and students pour their hearts and minds into their projects, they also learn critical life skills, such as teamwork and gracious professionalism. Team Inconceivable may be based out of Boynton Middle School, but includes students from many surrounding towns, such as Jaffrey, Temple, Peterborough, Milford, and more. Like all F.I.R.S.T. teams, Inconceivable consists of high schoolers, but is open to kids entering their freshman year, albeit with some restrictions on what these younger students can do. Team 1729 is nine years old, and has been competing in F.I.R.S.T. robotics for over three years. F.I.R.S.T. Robotics offers one-of-a-kind job skills and real-world experience to students that they can take with them for years to come. We look forward to hearing from these brilliant students in the future, and wish them all the best of luck. For more information about Team Inconceivable, please visit their
Facebook page
.
---
A Garden Grows in Nashua
An unlikely sight rests alongside a parking lot behind St. Joseph's Hospital in Nashua; corn, lettuce greens, beans, flowers, and much more bloom from a fenced-in, 6,000-square foot garden. For twenty families in need, the Grow Nashua program has supplied a desperately-needed food source that they can use again and again, while learning critical sustainability skills.
"I saw a need and I said, 'How do we do this?'" said Justin Munroe, founder and Program Director for Grow Nashua. "There is a community plot in town, but it has a two-year waiting list." Many families don't have the luxury of waiting that long, so about eighteen months ago, Monroe decided to take action. Forty-five plots of land, each measuring about five feet wide by fourteen feet long, now grow an abundance of vegetables for these local families. "It's the teach a man to fish mentality," said Munroe.
*Grow Nashua won Sanford Temperature Control's $500 Community Commitment Contest in August, 2017* ~ Justin Monroe, Program Director for Grow Nashua, left; Dale Sanford, Owner of Sanford Temperature Control, center; Ellen Sanford, Owner of Sanford Temperature Control, right.
With guidance from volunteers and a few local farmers, each family has become responsible for tending their own plots, learning skills that can provide food for themselves and their loved ones for years to come, while reaping the benefits in real time. The families are all from Nashua, with between two and seven children. Even the kids get involved. There's a children's garden, which was planted from seed, and which encourages them to take an active interest in gardening. The abundance that Grow Nashua has created is truly impressive. "The garden has produced over 2,000 pounds of food this year," said Munroe.
The secret to Grow Nashua's success is three-fold: participating families are truly vested in learning life-long skills that produce short-term results; the staff at St. Joseph's Hospital and the local community deliver support; and the garden's wicking system, recommended to Grow Nashua by a local organic farmer, helps the garden thrive. The wicking system consists of two 8-foot ropes on either side of sunken bucket, which run beneath each plot's raised gardening bed. The bucket is filled with water, and the ropes are threaded into it. Since plant roots naturally burrow toward water, the result is a system that essentially waters from below; the fine root hairs exert enough suction to continuously pull water from the rope, which keeps the soil moist and the plants thriving. This way, families don't have to water their plots as frequently, and the garden is less susceptible to a lack of rain.
Wicking System
Despite the success and enthusiasm within the Grow Nashua program, it still has hurdles to overcome. "The challenge is how to sustain this momentum," said Munroe. "We're working to secure a two to three-acre plot for five families who really want to make farming their choice of profession." Grow Nashua plans to expand in a year or so, to another spot on the St. Joseph's property that will be about three times larger … and therefore support three times as many families. Participating families may have an opportunity to earn some income from their plots at this time, however exactly how still remains to be seen. Donations from Sunny Valley Farm and Lull Farm were critical to getting the garden started. Lull Farm in Hollis donated about 400 seedling plants to help start Grow Nashua. Grow Nashua is an affiliate of the United Way of Greater Nashua. For more information about this exciting program, please visit 
www.grownashua.org
.
---
1269 Café Helps People on the Edge
Do you know what it's like to be homeless during the winter in New Hampshire? Neither did Craig and Mary Chevalier, until they joined a brave man from Derry who had opted to live for a week as a homeless man, so that he could experience what it was like. "We spent one day with him, and we never left. We got connected with people," said Craig Chevalier. The experience touched Craig and Mary Chevalier so deeply that they were inspired to found
1269 Café
(Manchester, NH). The original location was at 1269 Elm Street—hence it's namesake, which they've carried on to this day—and it began modestly.
"We started with a few electric griddles and some donations from [a local] Hannaford's. We were making grilled cheese sandwiches and handing out bags of chips," said Mary. "We fell into it," agreed her husband, Craig. "We think it's important to persevere and keep this thing going." Over the last 8 years, they've had to move a few times "in order to grow from small, to medium, to large," said Mary.
1269 Café
now serves 100-150 of the needy, Monday-Friday, and will soon expand to six days. Craig and Mary know almost all of their patrons by name, and they greet each one with a smile.
Patrons having lunch.
The circumstances that have driven the people they help into the streets range from substance abuse and mental illness, to no or under employment. While some shelters have restrictions on who they can take, and in what circumstances, Mary said, "We take everybody. We give people a place to get a good meal, hang out to get away from the weather, and even make peoples' resources last a little a bit longer. If someone is down on their luck and having trouble making ends meet, the lunches they get can help reduce the cost of living, even if it is just a lunch. We help people on the edge." The Chevaliers say that Café 1269 feeds people physically and spiritually, and although ministering is part of what they do, they're not preachy about it. "Religion can be a part of what they get at the café or not. It's up to them," said Mary.
Dale Sanford, Owner of Sanford Temperature Control, (center, holding check).
The café is more than a place for those in need to get a nutritious meal. 1269 Café has teamed up with the NH Food Bank Culinary Training Program so that those in need can learn skills that can get them placed in jobs, and ultimately off the streets. When the cold weather descends upon New England, 1269 Café transitions to a "warming station" as well. "We give people a safe place to stay warm. Sometimes we'll show movies, let people play board games, or maybe have some live music," said Mary. Their warming station is open from November to March/April. 1269 Café is located in the old Manchester Police Department at 351 Chestnut Street, 2
nd
Floor, which gives them access to locker rooms with showers, as well as laundry facilities. The team behind 1269 Café is 100% volunteer-run, with about 100 volunteers that help out when they can.
Members of all-volunteer staff serving lunch.
All food, clothing, and monetary donations go directly to help people in need. For more information, or to donate to this wonderful charity, please visit:
https://thetwelveonunion.org/
.
---
Charity Provides "Another World" for Underprivileged Children
Does an impromptu sledding party sound like fun, especially when your kids are going a little winter stir crazy? What if a bright-eyed, upbeat teacher served hot chocolate and encouraged adults to take part as well? Tara Happy, Assistant Education Director at
Beaver Brook Association
in Hollis, NH, recently used the association's
Facebook
page to do just that when a snow storm closed local schools for the day. "The next thing I knew, there was a line of cars coming in. And I always try to get the parents out there. Sometimes they need that shove to go outside and play, too," said Happy.
Happy's passion for the great outdoors is the sort that inspires visitors and perpetuates the mission at Beaver Brook Association to educate visitors about responsible natural resource management. The association promotes environmental awareness through school field trips, scouting events, summer camps, birthday parties, adult workshops, guided hikes, Snowschool ™, letterboxing, gardening and volunteer opportunities, and much more.
The association's 2,200 acres of woodland and 35 miles of trails invites children (and people of all ages) to not only "frolic in the woods and get away from the electronics overload," said Happy, but also to enjoy a lasting connection to non-profit outdoor education, especially for underprivileged students. It's an opportunity that has changed lives. "For a lot of kids, their playground is often pavement, so this is truly another world for them," said Joyce Woodrow, Finance & Administration Director of Beaver Brook Association. Woodrow says that city kids who don't get the chance to see what nature is really like are often most especially touched. This kind of outreach has left a lasting impression on visitors like Wisconsin businessman David Woods, who grew up in Pepperell, Massachusetts, and long-time Beaver Brook naturalist Pete Smith. Woods and Smith were "inspired by their own experiences" to start a fundraising campaign for the association because they "were able to attend camp thanks to need-based scholarships" as youths, says the association's website. Woods and Smith have promised $50,000 to Beaver Brook Association if the association can match that amount. The donation will "double the number of children who benefit if the organization can meet the challenge. To date, Beaver Brook Association has raised almost $37,000" toward their goal, says the association's website.
Beaver Brook aims to counter Nature Deficit Disorder!
The inspiration to connect kids of all ages to nature began over 50 years ago when two cousins, Hollis P. Nichols and Jeffrey P. Smith, both of Hollis, NH, began creating what would come to be known as Beaver Brook Association. Their goal was to form "a special land-based resource, a place that would foster natural resource stewardship and encourage a sense of appreciation for the natural world," says the association's website. Happy's impromptu sledding party and the association's educational programs are just two of the many activities at Beaver Brook Association that draw tens of thousands of yearly visitors. The association also boasts a Fitness Trail with workout stations and bridges, programs for homeschool groups, and a variety of seasonal activities and events. One of the most popular activities is a fitness hiking group of seniors, ages 70+. "You should see these people. They really move. They'll go three or four miles at a time," said Happy. Through the passion and enthusiasm of staffers like Happy and Woodrow, Beaver Brook Association's mission to connect people of all ages to their natural environments, especially the  underprivileged children who may need it most, is certain to continue for the next generation … and beyond. We hope you'll visit their website today. Better yet, hop in the car drive on over! You won't be disappointed.
Beaver Brook Association Wins $500 Donation from Sanford!
Joyce Woodrow, Finance & Administration Director of Beaver Brook Assoc. (left); Dale Sanford, Owner of Sanford Temperature Control (center); Tara Happy, Assistant Education Director of Beaver Brook Assoc. (right).
---
2018
New England Parkinson's Ride Wins Sanford's Community Commitment Contest (March 2018)
The New England Parkinson's Ride started off with a humble but inspired beginning: three dozen bicyclists riding to raise money to fund a cure for Parkinson's Disease. While other types of charity bike rides existed for various causes throughout the country at the time, the Woods family discovered there wasn't one for Parkinson's Disease throughout the entire country.
Dale Sanford, Owner of Sanford Temperature Control (left) with members of New England Parkinson's Ride
Chris Woods, an avid cyclist, was diagnosed with Parkinson's Disease at the age of 41, and the Woods family rallied around him. Under the leadership of his mother, Edna Woods, Executive Director of New England Parkinson's Ride, the annual event has grown from its humble beginnings to include over 1000 cyclists from 23 states and 3 provinces of Canada, as well as more than 250 volunteers. The ride has raised over 3.3 million dollars over the past 11 years, growing into the biggest independent single-day fundraiser for Team Fox of the Michael J. Fox foundation in the entire country.
Chris Woods (left), Cindy Woods Theberge (left middle), Michael J. Fox (right middle), Edna Woods (right)
The ride showcases not only people uniting for a common cause, but also demonstrates the persistence of the human spirit in the face of adversity. "We had sixty-one people with Parkinson's who did the ride this year," said Edna Woods. The riders range from professional cyclists to amateurs to families—the ride is an event for all ages. For instance, the Portland Wheelers, a group of cyclists from Maine, even give some people suffering from Parkinson's Disease tandem rides.
A member of the Portland Wheelers, a group of cyclists from Maine, riding tandem with a man with Parkinson's Disease.
"Riders of all ages and abilities are welcome," and can sign up to ride in one of four routes for all ages and abilities, says the organization's website. The courses go around Old Orchard Beach, Maine at various distances: 10 miles, 30 miles, 50 miles, and 100 miles. The event also boasts entertainment, concessions, vendors, and even showers. "The thing to know is that anyone can Parkinson's. It's not just for old people," said Cindy Woods Theberge, Director of New England Parkinson's Ride. It's for this reason that there is always a need to help support this wonderful cause. Please visit:
www.neparkinsonsride.com
. To learn more about Parkinson's Disease, visit:
https://www.medicinenet.com/parkinsons_disease/article.htm#parkinsons_definition_and_disease_facts
.
---
"Purr-fect" Charity Wins Sanford's Community Commitment Contest for April 2018
Karen Merrow's passion for rescuing and re-homing cats and kittens started with a single feline that was surrendered to a local veterinarian over nine years ago. "We helped that cat and then there was another one right behind it that needed help.  From there we began taking in more and more," said Merrow, a volunteer with 
Happy Tails Pet Rescue
in Hudson, NH. Shelly Lheureux, the founder of Happy Tails Pet Rescue, and Merrow, both life-long lovers of animals, never planned for Happy Tails Pet Rescue to grow into an organization with a cage-free shelter in Hudson, NH and several adoption centers in local pet stores throughout New Hampshire and Massachusetts, but the need for people to step in and take care of these animals was all too real.
"Over the years, I would estimate our organization has saved over 3,000 animals—cats, dogs and other small animals.  We currently average about 200-300 cats saved per year. Some stay with us as little as a week and others stay for a lifetime," said Merrow. Local shelters and Humane Societies are consistently at full capacity so the need is always there; as soon as one animal is delivered to a new home, there are many more waiting in line to take its place. Merrow says that "the number of animals in need of re-homing or medical care can astound the average person. The most surprising thing is how many people feel animals are disposable or that it is OK to just abandon them or treat them terribly.  Animals are living, breathing, feeling beings and deserve better.  Thankfully, the majority of surrendered animals are for a legitimate reason—such as financial challenges or the well-being of the animal."
Spring is often one of the busiest times of year at Happy Tails Pet Rescue as well, since this period is typically referred to as "kitten season." While cats have kittens year-round, there is greater need in the Spring. When mothers are rescued with their litters, they're often malnourished, infested fleas and other parasites, and sometimes unable to care for their kittens properly. The need for human intervention is then required to help fix any health issues kittens may have due to these poor conditions. "We typically take in and adopt out at least 20-30 kittens between March and June.  This year we already have three litters in foster care," said Merrow. It doesn't come cheap. The cost of getting a
healthy
kitten ready for adoption is over $100, and that's assuming there are no other vet bills involved. Kittens found without a mother require around-the-clock care and additional medical treatments. Luckily, Merrow and her host of dedicated volunteers are adept at caring for and adopting out cats to the homes they're most likely to thrive in, based on their feline personalities. "The cat (or animal) chooses the human. Many prospective adopters come in to see one cat and another one steals their heart. It happens all the time!  We tell people to have patience…the right animal will find you, wherever they are!"
Merrow likes to share a word of advice for anyone seeking to adopt a pet: "Go in with an open mind." "You may have been attracted to one particular color, gender, etc. however the purr-fect cat for you may not fit that mold you have created in your mind. Be open to all the animals, regardless of looks. Search for an animal based on personality traits as opposed to physicality," said Merrow. The need to rescue these unfortunate felines is a calling that unites everyone who volunteers at Happy Tails Pet Rescue. "Our volunteers are like family to us, and we love these animals as much as our own. We laugh together at the crazy antics of the kittens and cry together when we lose one that we just couldn't save no matter how hard we tried," said Merrow. Happy Tails Pet Rescue hosts monthly events at Petco in Nashua, NH, and quarterly at Petsmart in Chelmsford and Everett, MA.  Visit their
Facebook page
for a schedule of events. Donations are greatly appreciated and can be accepted via PayPal though their website at:
www.happytailspetrescue.org
.
---
Manchester Charity Feeds Hundreds
Every Saturday morning in the parking lot of the JFK Coliseum in Manchester, NH,
Food for Children, Inc.
feeds hundreds of people and families in need. "We've only cancelled once in 28 years, and that's because there was over twenty inches of snow and we couldn't get the trucks out of the parking lot," said Peter Dalrymple, President of Food for Children, Inc.
Food for Children, Winner of Sanford Temperature Control's $500 Community Commitment Contest ~ Peter Dalrymple, President of Food for Children, Inc., left; Dale Sanford, Owner of Sanford Temperature Control, center; Jeffrey Comeau, Board Member of Food for Children, Inc., right.
All week long, Food for Children Inc. collects donations from bakeries, NH Food bank, Hannaford's grocery store chain, and private donators in order to feed up to 400 families come Saturday morning. The Saturday morning events start with a short message from a local pastor, and then the line opens up and people can move from table to table to receive various types of food, from fresh meat and produce to non-perishables. "Whoever is in need can come," said Dalrymple. Food that is not distributed goes to an additional seven local churches, so that nothing is wasted. The organization is 100% volunteer and utilizes four trucks and up to seventy-five volunteers every Saturday to continue to change lives for the better, week in and week out. "We need at least twenty-five people just to open and get set up," said Dalrymple. Food for Children, Inc. has grown into a big operation over the years, but it began modestly: with two women serving sandwiches to the children of drug addicts. They saw a need and the organization grew into what it is today: a charity that not only feeds people, but helps them get back on their feet by alleviating some financial and spiritual strain. As a result, for many involved with the charity, it's personal. "There are a lot stories of people coming back to help after benefiting from us, once they're back on their feet. We build relationships with people, and it's a blessing to be a part of it all," said Dalrymple. "I got involved to spend time with my daughter. She said she wanted to volunteer. We both loved it. It totally changed my life." To support Food for Children, Inc. visit
www.foodfc.org/
.
---
Kitty Angels Saves 600 Cats Per Year
There's no meow about it: for over 30 years,
Kitty Angels
has been a blessing to over 600 cats
per year
throughout Southern New Hampshire and Eastern Massachusetts. This purr-fect, "no-kill" feline charity is dedicated to taking in stray and abandoned cats and kittens and placing them in loving homes. They also care for feral colonies, supplying cats with food, water and shelter. "Some feral cats show promise for socializing and we place those for adoption if it works out. Feral cats need extra attention, but the rewards can be spectacular," said Steve Lionel, Webmaster for Kitty Angels.
Hello! I'm Felicia, a "love bug" who was adopted out as a kitten and was returned because my owner moved and couldn't take me along. I've been an "only cat" and would prefer to keep it that way.
Steve first became involved with Kitty Angels in 1997 after he and his wife adopted two cats. "At the time I was learning how to create websites and I offered to create one for Kitty Angels. I posted photos of adoptable cats and kittens, which also meant taking pictures of the cats. Of course, taking photos of cats meant that I saw a lot of them, and some of them would end up coming home with me. In fact, we adopted two more just within the past month, making them the 11th and 12th cats we have adopted from Kitty Angels over the past 21 years." Joan Abbott, Kitty Angels Co-founder and Director, said she was surprised when she first moved to Tyngsboro, MA and found there was no local shelter for animals. "I had always loved animals and was constantly bringing home every stray cat I encountered—even as an adult.  This led to a problem: the number of animals living with me had reached epic proportions and all my friends and relatives had already been persuaded into adopting animals from me. I needed to find a way to place the endless stream of homeless cats I encountered," said Abbott. As a result, Abbott responded to a local ad that was seeking homes for stray cats, and through this met another passionate rescuer, a former president of a Humane Society. "She would often bring the overflow back to her house and adopt them out under the name of 'Kitty Angels.'  We joined forces, organized the necessary paperwork, and adopted her name of Kitty Angels for our combined shelter. Shortly after we organized, she moved out of state, but is still running a shelter of her own."
Hi, there! I'm Franklin, and I'm looking for a loving home with lots of space for me to add love to my "forever family".
Abbot says that it is crucially important to spay or neuter cats to reduce cat overpopulation. Cats allowed to roam outdoors tend to have a much shorter lifespan than cats living indoors, since outdoor cats get lost, hit by cars, attacked by wild animals, catch diseases from other cats, and are even sometimes abused by humans. "We have treated cats shot with arrows, poisoned, pelted with rocks and worse," said Abbott. It is for these reasons that Kitty Angels and its many volunteers work tirelessly to rehome cats and kittens, feed feral colonies, and check traps. Placing cats into loving new homes is something that is taken seriously at
Kitty Angels
. Potential owners are asked to fill out a questionnaire and a contract that specifies such things as cats not being allowed outdoors, not being declawed, and that the cat will be returned to Kitty Angels if it can no longer be cared for.
My name is Mowser and I am a gorgeous Tortie girl – at least I will be once my fur grows back from where it was shaved because it was so matted from living outside! I'm shy but enjoy being petted. Everything is a bit new to me right now, but I should settle in nicely over time.
"We check vet and personal references and may do a home visit. This is to ensure that you are capable of caring for the cat over its expected lifetime (which may be 20 years or even more)," said Abbott. The current adoption fee is $135, which helps to pay for spaying and neutering, vaccinations, microchipping, and other types of medical care. Adoptable cats can be viewed on the Kitty Angels website at:
www.kittyangels.org
. The site also hosts an annual newsletter with helpful information for cat owners. Kitty Angels hosts adoption days on most Saturdays at Petsmart in South Nashua, from 11 AM to 4 PM, which is a great way to meet a selection of available cats. "We ask that you bring as much of your family as possible so that everyone can be sure that the cat and your family are compatible," said Abbott. Donations are always in high demand—money, food, towels, litter and other items—and a list of needed items is available on the Kitty Angels website. "If you shop online, consider doing so through the links on our site (one for Amazon and one for iGive that works for hundreds of other online stores). The Amazon link is particularly helpful for us. We get a percentage of your purchase price and it doesn't cost you anything extra," said Abbott. We wish this paw-some organization the best of luck, and hope that we've purr-suaded you to check them out today!
---
Aubrielle's Hope Supports Devastated Parents
Aubrielle's Hope
started with the loss of a child. The doctors told Beth Cook that because of several medical issues with her baby, Aubrielle Hope Cook, she should terminate her pregnancy. Beth Cook, a woman of faith, refused. Aubrielle was born on April 13, 2016. She lived for only seven hours. Nevertheless, Aubrielle touched the lives of over 600,000 people on Facebook and beyond when Beth shared her story with the world. The outpouring of support was overwhelming, as were the heartfelt stories from those who had endured similar experiences. Beth wasn't alone, and neither would Aubrielle be either. A beloved aunt, Katie Barnfield, "wanted Aubrielle's life to have a lasting legacy." She envisioned supporting families who had traveled the same difficult path. Barnfield knew that medical care isn't cheap, and that the last thing families need to worry about when their child is in NICU are bills, costly medical interventions, and funeral expenses.
Aubrille's Hope won Sanford's August $500 Community Commitment Contest. Left, John Ditty, Aubrielle's Hope Giving Liaison. Center, Dale Sanford, Owner of Sanford Temperature Control. Right, Lisa Ditty, Aubrielle's Hope Donation Coordinator.
Aubrielle's Hope alleviates some of that burden with donations as high as $500 to help with the cost of funeral, cremation, and burial expenses. "We hope to increase that amount," said John Ditty, Board Member of Aubrielle's Hope. "Right now our problem is that we don't have enough awareness. We need more people to know about what we do." Hospitals, local communities, churches, funeral homes, families, and the staff of other regional medical facilities such as urgent care centers need to know Aubrielle's Hope exists so that families can get the support they need during the most difficult of times. The process for support is a
simple application
that is then sent to the organization's Board of Directors for approval. Despite the challenge of awareness, supporters have been working tirelessly to spread their mission, organizing golf tournaments, bowling nights, assisting with the
Pumpkin Regatta
(Goffstown, NH. Oct. 14), and even hosting a few game nights with the Manchester Monarchs. By building awareness, the charity seeks to stay true to its mission statement of making sure that "Aubrielle will be remembered and her life will be used to make a difference, like the difference she made in all of our lives in only 7 perfect hours." To learn how you can help, please visit:
https://aubrielleshope.com/
---
What if You had to Build a Robot?
What if you had to build a robot? What if your robot had to navigate complex obstacles and achieve tasks autonomously and by remote control while competing against other robots? What if you only had six weeks to build it and had to raise $30,000 in funding? If this sounds like a task for NASA or SpaceX, think again. For a group of high school students at the Academy for Science & Design, a STEM school serving the Greater Nashua area, the future of robotics is now. Each year, Team Phoenix 4-H Robotics Club (#2342), a member of
F.I.R.S.T. Robotics
, a not-for-profit public charity designed to inspire young people's interest and participation in science and technology, embarks on a grueling six-week competition. Their mission: build the best robot they can and pit it against other robots, with the ultimate goal of advancing through rounds of local and state competition to reach the national stage.
Members of Phoenix Robotics troubleshooting their 2017 robot.
It's not a job for the feint-of-heart, and it can't be done alone. There are over fifty students on the team, with members divided into teams and sub-teams to focus on different aspects of the build. Students must learn machine shop operation, programming, wiring, Computer Aided Design, project management, business fundamentals, community outreach, teamwork, and much more.
The full Phoenix Robotics team for 2018.
The competition requires a great deal of dedication and persistence. Students work about twenty hours a week above and beyond their school work to meet the stringent six-week deadline, and they do it completely on their own. "We have a student-led team. Our students completely decide the game plan and the design. The students develop everything, and the adults only provide guidance," said Amy Bewley, Mentor for Phoenix Robotics. Despite these challenges, Team Phoenix has managed to compete every year since 2008. Participating in F.I.R.S.T. Robotics teaches students to overcome not only science and engineering problems, but also real-world business challenges such as the retention of internal knowledge, a hurdle that many businesses face in today's job market. "Every year there seems to be a big loss of seniors. They have a lot of knowledge and can't pass it on, so it can be challenging to overcome the loss," said Ellen Kedzierski, Business Sub-team Lead for Phoenix Robotics.  Never to be dissuaded, Ellen and her teammates decided to innovate. "We decided to have last year's [team] leads work closely with our current leads to pass on critical leadership knowledge."
Phoenix Robotics operating their robot in the 2018 competition.
Working with the team also helps build personal life skills such as creativity, responsibility, critical thinking, self-confidence, and leadership, "I'm a completely different person than I was last year. I gained charisma and the ability to talk to large groups. I love the teamwork. I've become acclimated with real project development strategies, and gained a level of knowledge to help teach and organize the rest of team," said Alexander Kedzierski, Co-Team Lead for Phoenix Robotics. While members of Team Phoenix learn design, project management, business fundamentals, community outreach, and working in a team environment, just to name a few but it's more than a high-tech competition. For some students, it's life-changing. "The students and mentors I have had the privilege to work with are some of the brightest and most caring people I have ever met, and I am fortunate to be graced by them. It has been a wonderful experience … I look forward to the frenzied nights of building and learning, and the exhilarating days of competitions in the months to come," said Chris Baxter, Phoenix Robotics Vice President and Systems Co-Lead.
Members of Phoenix Robotics with Sanford Temperature Control's Marketing Manager, Adrian Wasylyshyn (center). Phoenix Robotics was the winner of Sanford's Community Commitment contest in October, 2018.
If you'd like to help, or know someone who does, please email info@team2342.org.